About Us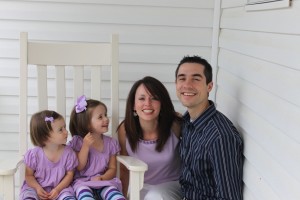 Matt, Leigh Ann, Kaelyn, and Evie
April 2011
Skype us at mattandleighann

Matt
Matt was born near Columbus, Ohio in 1978. Despite only living there nine years, he was thoroughly indoctrinated with a love of Ohio State football. The next stop for Matt was Amarillo, Texas for three years, followed by Anderson, South Carolina. Here he graduated from Westside High School in 1996 and then journeyed about 30 minutes down the road to go to Clemson University. It was here that he met the love of his life, Leigh Ann. In 2001, after convincing Clemson that he was worthy of a degree in computer engineering, Matt decided to try his luck in graduate school. So, he packed up again and headed for the rather frigid and windy cornfields of central Illinois to attend the University of Illinois at Urbana-Champaign. Leigh Ann made Matt give her an engagement ring before he left and they were married in June 2002 after an agonizing year apart.
At UIUC, he received his MS in computer science in 2003 and his PhD in December 2006. Also at UIUC, he was involved in Graduate InterVarsity Christian Fellowship and attends the Urbana Assembly of God church.
Currently, Matt is a software engineer at Cisco in Research Triangle Park, North Carolina. Despite battling a lifelong addiction to computers, Matt manages to lead a somewhat normal life and enjoys reading, lifting weights, disc golf, Ultimate Frisbee, German board games, and running.
You can email* Matt at matt at mattandleighann dot com
You can Facebook Matt here
Leigh Ann
Leigh Ann was born and raised in Anderson, SC and clung to her Southern Belle roots even after living in Illinois for about 5 years. In January 2007, Matt and Leigh Ann returned to the sunny southeast when they moved to Apex, NC where they currently reside.
Leigh Ann graduated from Westside High School and received a degree in Business Management from Clemson University, where she met Matt on a sand volleyball court (even though she's no good at playing volleyball). After a few years of dating, Matt convinced Leigh Ann to be his wife, and so she followed him to graduate school at the University of Illinois in Urbana-Champaign. In 2005, Leigh Ann received her MBA degree from Eastern Illinois University. During her time in Champaign, Leigh Ann worked for Wolfram Research and the MBA program at the University of Illinois. Leigh Ann was also an active member of Urbana Assembly of God and served as the webmaster for University of Illinois Graduate InterVarsity.
Currently, Leigh Ann is a stay-at-home-mom to the two most wonderful little girls in the world (she's not biased or anything). Leigh Ann and the girls fill their time swimming, shopping, going to the playground, playing, singing, reading, Mommy/Baby Bible study, and playdates with friends. Leigh Ann attends Crosspointe church, runs long distances, and works for MealBaby.
In her free time (which isn't very much these days), Leigh Ann enjoys gardening, running, shopping, Ultimate Frisbee, Facebooking, going to "Mommy Night Out", making cheesecakes, and spending time with Matt, Kaelyn, and Evie. In her free time, Leigh Ann does not enjoy dusting, cleaning the bathroom, or ironing. Leigh Ann also enjoys traveling…in the past few years, she's traveled all throughout India, and visited the UK, Taiwan (twice), Philippines, Thailand, Turkey, Spain, and China.
You can email* Leigh Ann at leighann at mattandleighann dot com
You can Facebook Leigh Ann here
Kaelyn Rose
Kaelyn Rose was the first addition to Team Miller. Born in August 2007 she is learning and growing everyday. She enjoys anything to do with nature (especially bugs, dinosaurs, rocks, pine cones, etc.), jumping on the trampoline, playing with Evie, playing with her friends, playing with Mommy and Daddy, reading books, and using her imagination. Kaelyn is very focused and can probably beat you at a game of "Are You Smarter Than a 3 1/2 Year Old?"
Evie Wren
Evie Wren became the second addition to Team Miller when she arrived in June 2009. Evie is a free-spirited, sassy pants who loves everything girly. You will always find her with a pocket book (or purse if you aren't from the south), a baby doll, and some of mommy's high heels. She can keep up with her big sister like it's no big deal. She has a servant heart and will help you out without a second thought. She gives the best kisses and can belt out the best version of "Jesus Loves Me" that your ears ever heard.
* Replace the word "at" with @ and the word "dot" with a period.