I'm copying this blog I wrote for the MealBaby blog here for you to enjoy too. 🙂
——————–
I am a runner and I love that my children seem to love running as well. They will put on a watch and run around the house as if they are running a race. Sometimes they'll even put a baby doll in the toy stroller and take their "jogging stroller" too. Anytime my hubby or I participate in a race our girls always enjoy doing the "fun run" for kids (which most races usually have as part of the event).
Over Thanksgiving vacation I was having a discussion with my 4-year-old and we came up with the idea to create our very own Fun Run for all of our friends. As the idea evolved we decided we'd ask our friends to bring a toy to donate to charity as their entrance fee for the race.
Today was the big day and about 20 of our little friends came out to a local park to run a lap (or several laps for some of the kids who were *really* enjoying it) on a paved trail that encircles the playground. We collected around 30 books, toys, and games that we are donating to a local charity just in time for Christmas!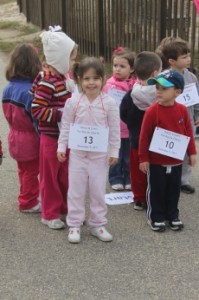 We served cut up fruit, bottled water, and of course some cookies to all of the runners. And I just love the little "ribbons" we handed out to all of the finishers.
I am so thankful for all of our friends who came to participate. I loved having this opportunity to share the joy of running and exercise with my kids and their friends, and I especially loved making it all be about loving on other people and giving to others.